McArdle: Goddess
Gallery ESTELLA
440 Julia Street New Orleans, LA
December 2021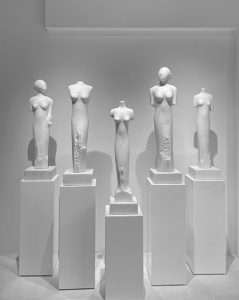 GODDESS. (god-dess). A female deity; a woman who is adored, especially for her beauty.
Sourcing materials from the hills of Tuscany, as done by artists dating back to the Etruscan period, for over thirty years, sculptor, Claire McArdle has been creating museum quality, timeless, one of a kind works that resonate with spirituality and have the aesthetic qualities of prehistoric and ancient sculpture. A native of the Washington D.C. area, after earning a Fine Arts degree from Virginia Commonwealth University, Claire moved to Carrara, Italy, a region rich in sculpture tradition, to work in the studios of master Italian artisans and sculptors. It was there that she learned the centuries old techniques of sculpting in marble and terra cotta. In her work, Claire consistently strives to create a harmony between the sensuous feminine, ethereal form and these earthly materials. Her inspiration comes from artifacts of early civilization dating back to 38,000 BC. Through her work, she tries to capture human emotion, our connection to the land we inhabit, and the divine.
Claire McArdle. GODDESS. On view from 9 December 2021.