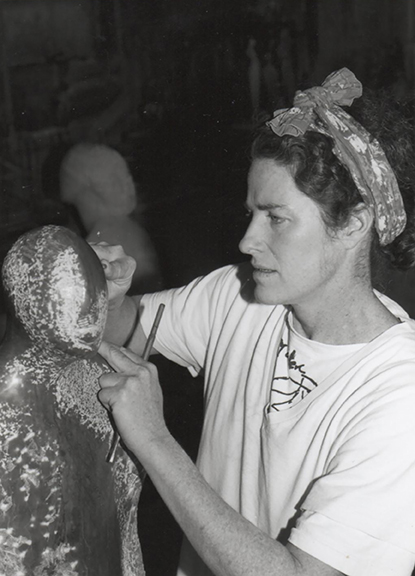 Claire McArdle grew up in the Washington DC area where she began studying Art in high school. Her regular trips to the National museums at a young age exposed her to a wide variety of sculpture from around the world.  After earning a Bachelor in Fine Arts from Virginia Commonwealth University, she moved to Carrara, Italy in 1988 to work in the studios among the master Italian artisans, artigiani and learned centuries-old production techniques. She worked among international sculptors that have been drawn to the region rich in sculpture traditions who share a unique camaraderie. Her works are in private and public collections throughout the United States, Europe, and Japan. McArdle's commissions for public, educational, and religious institutions include monumental works for Spring Hill College, Mobile, AL, Marian House, Baltimore, MD, The Holton-Arms School, Bethesda, MD, St. Bede, Williamsburg, VA, Holy Trinity Church, Washington, DC, Holy Redeemer College, Washington, DC as well as many private commissions.  
McArdle's sculptures synthesize elements of traditional classical sculpture with aesthetic qualities found in ancient sculpture, prehistoric art and the European modern masters. She was included in an exhibit in 2017 Rodin and the Contemporary Figurative Tradition, curated by Joseph Bercherer at the Frederik Mejer Gardens and Sculpture Park in Grand Rapids, MI. She was selected to carve monumental works in on-site symposia for two public parks in Japan.
She maintains a studio in Colorado, where she lives with her husband on their ranch on the front range of the Rocky Mountains.
Artist Statement
My interest in art and mythology began as a child.  I was inspired by the artifacts from early civilizations including sculptures of animals and the human form dating back to 38,000 bce. They are timeless treasures that continue to have a strong aesthetic in contemporary time. My impulse to create sculpture from the earth satisfies an urge deep within my psyche and a connection with other humans past and present. 
Drawn to the art and artifacts from prehistoric and the ancient world, I have recognized the cross-cultural similarities abound in the archetypes and symbolism in art binding us together as one species, with common ancestors. The symbolism created by artists, therefore, connects us through the arts. In my process, I explore the experiences of human emotion, our connection to the land, animals and the divine. The female torso, a common theme, sculpted in marble, terra cotta and bronze honors the sanctity of feminine archetypes.
I  have an insatiable passion to work in a subtractive method in both clay and marble. My figurative works emerge from the block as a representation of the feminine and a sensuousness that both females and marble share. I strive to create a harmony between the ethereal form with the earthly material, leaving evidence of the process with the marks of my hands and tools.  Humans have sculpted female torsos in this way since prehistoric times, perhaps in a ritualistic way, to honor the sanctity of the feminine. I also evoke this universal archetype as I aim to create timeless works that resonate with spirituality and connects us to our ancestors. 
In 2004 we built a studio on a working bison and horse ranch in Colorado. My work with animal imagery has grown out of that period. It reflects the revitalized relationship I have with the land and the animals, and also my deepened awareness of the natural cycles of life and death.
The horse has played an important role in human evolution. My inspiration for the series Equipeans, Harmonia and Cavallino comes from art and mythology depicted in artifacts from prehistoric and ancient cultures and my personal relationship with horses on our ranch.
The terra cotta that I use is mined in the hills of Tuscany, Italy. I began working with this clay while working in the travertine quarries there. The marble, travertine and clay mines in Tuscany were formed geologically from sea beds and share the same mineral content. This area has a history of production of terra cotta vases, brick and tiles since the Etruscan period, 4thbce. The clay is grey while wet making it ideal for sculpting in the way it reflects light and shadow. When fired to 1850 F- Cone 04, it has a soft light salmon color. I apply thin layers of terra sigillata  to add color and bring out the gestural  textures that have been created with my hands.  Terra sigillata is an ancient technique of applying a fine clay slip with natural pigments to pottery and ceramic sculpture.
Watch Recent Interview with Artist's Proof