Workshop: Integrative Yoga/Ceramic Sculpture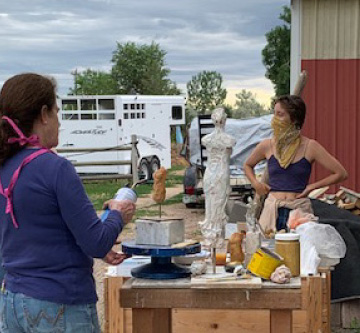 Lead by local artist – Claire McArdle and Integrative Bodyworker – Sara Hilgendorf.
About this Event
This workshop will take place on Hanging Ten Ranch and offers a unique opportunity to practice yoga and create art in an open outdoor environment. The workshop will focus on the integration of yoga with sculpture studio practice, learning techniques of working terra cotta using gestural, subtractive methods to bring forth figurative works with mindfulness and confidence.
Each day will begin with a yoga, breathing and movement session.
Application of slips, engobes and terra sigillata will be applied to the terra cotta. Post firing students will return for a short session to work on application of pigments, waxes and create pins and bases for presentation of sculptures.
* this workshop is for experienced and beginners alike. Each instructor will base lessons for all levels. Limit 10 students.
Allowing for Covid 19 guidelines, students will comply with social distancing.
Weather permitting, yoga session will be outdoors and sculpture work will be divided in various shade areas outdoors.